NY DFS' virtual currency guidance for banking organizations
The New York Department of Financial Services (DFS) has released guidance that expands the scope of virtual currency activity for which New York banking organizations need prior approval.
The DFS has released guidance clarifying both the scope of and application process for virtual currency-related activities by NY banking organizations (the Guidance). The Guidance expresses the DFS' expectation that all Covered Institutions[1]—New York-chartered banks and trust companies and foreign bank branches and agencies in New York—seek the DFS' approval before engaging in any new or additional virtual currency-related activity.[2] The BitLicense regulations have always been clear that Covered Institutions that obtain approval from the DFS before engaging in virtual currency business activity[3] do not need to obtain a BitLicense from the DFS.[4] But the Guidance requires a Covered Institution to obtain approval before engaging in virtual currency-related activity, which includes but is not limited to virtual currency business activity. The Guidance, therefore, expands the scope of activities for which Covered Institutions must seek prior approval.
Image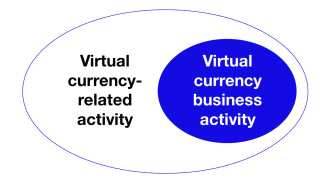 In addition to virtual currency business activity, virtual currency-related activity includes "the direct or indirect offering or performance of any other product, service, or activity involving virtual currency that may raise safety and soundness concerns for the Covered Institution or that may expose New York customers of the Covered Institution or other users of the product or service to risk of harm."[5] The Guidance provides a non-exhaustive list of activities that it considers to constitute virtual currency-related activity:
offering digital wallet services either directly or through a third party;
lending collateralized by virtual currency;
facilitating participation in virtual currency exchange or trading, including by carrying fiat currency on behalf of customers;
providing services related to stablecoins, including reserve services for issuers; and
using digital asset technology for traditional banking activities (e.g., underwriting a loan, debt product, or equity offering effected partially or entirely on a public blockchain).
The Guidance directs Covered Institutions to begin seeking prior approval at least 90 days before the Covered Institution intends to commence each "new or significantly different" virtual currency-related activity. This is similar to the BitLicense requirement to obtain DFS prior approval for a material change to one's business, and uses effectively the same standard to determine what may be a new or significantly different activity.
The Guidance lists detailed informational requirements that would, if drafted by a Covered Institution from scratch, likely span hundreds of pages, though these can be addressed by cross-references to existing material.[6]
The Guidance is effective as of the release date on December 15, 2022, and applies to all Covered Institutions for all virtual currency-related activities already undertaken or to be undertaken going forward. As a result, a Covered Institution currently engaged in virtual currency-related activity should promptly notify its point of contact at the DFS of the relevant activity if it has not already done so.
The Guidance is expressly non-exhaustive, and the DFS has stated that it may update it from time to time in response to new information, evolving markets, additional experience and comments or inquiries from stakeholders seeking clarification on the Guidance.
If you have any questions regarding the matters covered in this publication, please contact any of the lawyers listed below or your usual Davis Polk contact.