Image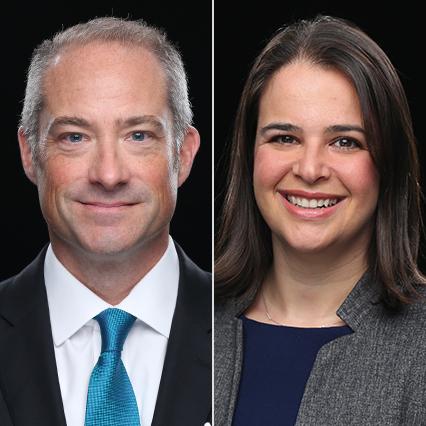 White Collar Defense & Investigations partner and Vice President, Tax Planning and Senior Tax Counsel at LVMH
In celebration of Pride Month, we are pleased to feature a joint Davis Polk partner and alum spotlight with Patrick Sinclair, White Collar Defense & Investigations partner and a member of the firm's LGBTQ+ Affinity Group, and alum Elina Khodorkovsky (NY, '14), Vice President, Tax Planning and Senior Tax Counsel at LVMH.
Read on to learn more about Patrick's and Elina's careers and what Pride Month means to them.
Patrick, you moved to Hong Kong in 2014, after working in private practice and as a prosecutor in New York. What prompted your move to Hong Kong, and what was your experience like there?
PS: In my eight years in the United States Attorney's Office for the Eastern District of New York, I had done several FCPA/corruption cases, and I wanted to leverage that experience in investigatory work. I deliberately sought out opportunities abroad – and Asia had many. I moved to Hong Kong to do both internal investigations and government-facing investigations for another U.S. law firm.
Elina, tell us about your role as VP of Tax Planning and Senior Tax Counsel at LVMH. What does your day to day look like? 
EK: LVMH is the parent company of dozens of brands that operate for the most part independently but without tax expertise. My role in many ways is to function as a service provider. Brands will reach out to me when they have a substantive tax question or are looking to effect a transaction of some sort and need to understand the tax considerations.
Every day is different, but each typically consists of a little reading, a lot of writing and a lot of listening/talking. Although I try to plan out my days and block out time for substantive work, new questions and projects pop up all the time which derail the crisp to-do list I make for myself in the morning. I'm also encouraged to attend conferences, participate in panels and take time to independently learn and connect with other tax professionals.
"Pride Month is an opportunity to reflect on where we are, where we came from and where we are going."
            – Patrick Sinclair
Patrick, you joined Davis Polk in Hong Kong in 2017. What drew you to the firm?
PS: I was steered to Davis Polk by clients at J.P. Morgan. They have a ton of respect for the firm and the lawyers who work here and encouraged me to explore an opportunity to join the firm. Since joining, I have been lucky to truly benefit from the team spirit of the partnership to ensure that all of our clients are receiving the best possible advice from whomever at the firm can offer that advice.
What are a few highlights of your work in the Hong Kong office?
PS: In 2020, we came to represent Luckin Coffee, a Chinese coffee company listed in the United States that was facing an existential threat arising from inaccuracies in its financial statements. This matter ultimately called in so many different Davis Polk lawyers – from practices like Capital Markets, Restructuring, Civil Litigation, White Collar and Finance – sitting in New York, California, Beijing, Hong Kong and DC. It was an example of the firm's global capabilities, and the results that we achieved for Luckin are a testament to the firm's superior legal and strategic advice. While the office in Hong Kong is our second largest office, it is a much smaller place than New York with a very warm feeling of camaraderie and team spirit. It is a wonderful place to practice with lots of great people. I am incredibly lucky that I get to continue working with them from my new home back in New York.
On the LGBTQ+ front, I also had the great pleasure and privilege to be a small part of a large team of Davis Polk lawyers who represented a consortium of banks and law firms in connection with litigation that resulted in the change of immigration policy in Hong Kong permitting employees in same-sex married couples to obtain dependency visas for their spouses. This was a major change in LGBTQ+ rights in Hong Kong and a point of pride for our firm and our clients who supported that change.
"Pride Month has meant so many different things to me over the course of the last 20 years. I think today it is mostly appreciation – for my LGBTQ+ community of friends, for the way that the world has changed since I was a teen, and for the pretty boring and very happy life I get to live with my wife."
         – Elina Khodorkovsky
Elina, what was the transition like working at a law firm to in-house in the fashion industry?
EK: Relatively seamless but definitely some growing pains. There are so many things about being in house that are unknowable until you get there. Also, as with any industry, there's lingo and a certain way of doing things in a specific organization that are tough to figure out at first and just take a lot of time to catch onto. I had spent nearly a decade at Davis Polk and had become extremely comfortable with silly things like how to use DMS, where to find files, how to get IT attention, where supplies were kept, etc. Figuring out all of the basics again just takes time. Davis Polk also has an incredible legal assistant in the tax department who is a magician at research and finding articles and authorities, and I genuinely did not know how to be a lawyer without her help.
How has your Davis Polk experience been useful to you at LVMH?
EK: Without question the substantive training I received at the firm makes me capable of functioning in my role, but more importantly the Davis Polk experience did not end once I returned my badge.
At Davis Polk I worked with and learned from colleagues who were generous with their time then and now. Especially in the first few months of transition in house, on more than one occasion, I called and emailed former colleagues (from associates to counsel to partners) to help me remember the number of a revenue ruling, pull the section of a treatise I couldn't find, or talk through an issue. Davis Polk continues to be shadow support in the most meaningful way. 
Patrick, what advice would you give to lawyers that has guided your own career?
PS: I think the best advice that I received early in my career was a reminder that it is not easy to be honest. What I mean is that it takes a lot of work and effort to know what you know and what you don't know, and to be clear about both when speaking with people and when writing. It turns out that this is good advice in personal relationships, too! 
Elina, was there an individual at Davis Polk who played an especially important mentoring role for you during your time at the firm? Do you have a favorite memory from your time at Davis Polk? 
EK: I had the benefit of several really spectacular mentors and sponsors throughout the years but none more impactful than Bill Curran. 
As for a memory, when I was a second-year associate, after a stretch of super late nights working with a senior associate on a deal, we decided to have a night cap. I went across the street to the bodega and got a six-pack of beer, only to realize that we didn't have an opener. That night she taught me to open a beer bottle with a binder clip.
Tell us about your experience with Davis Polk's LGBTQ+ Affinity Group.
PS: In the year since I moved to the New York office, I have been so happy to see the enthusiasm among the LGBTQ+ lawyers at the firm. Our all-city event for gay lawyers in New York City was a hot ticket – and I had clients and colleagues from other firms calling me to get invites to the capacity event. Corey Goodman and I did a presentation about our career paths to the associates last year that was so well attended, I felt like a celebrity! The events we have to welcome new members of the community generate a sense of warmth and inclusion that is befitting for our firm and its goals to be an industry leader in DEI priorities. Now that I am more settled in the firm, I would like to learn more about pro bono opportunities directed toward the LGBTQ+ community and become more involved at that level, too.
EK: I was active with the LGBTQ+ Affinity Group from my summer until I left Davis Polk and served on the steering committee for seven years. During that time, I got to attend countless events, walk in the Pride parade, see Adele and Cher live, and represent Davis Polk at external events and in recruiting. For me, my participation in the affinity group was one of the tethers that made me feel valuable and connected to the firm. Especially as a junior associate, the affinity group was an extra layer of support and gave me the opportunity to meet lawyers outside of my class year and from other groups.
What does Pride Month mean to you and how are you planning to celebrate this year?
PS: Pride Month is an opportunity to reflect on where we are, where we came from and where we are going. I have older friends who are completely flummoxed by how open and welcoming the professional environment is for gay lawyers these days. Their days in the office were largely spent in the closet and alone. I myself am sometimes surprised by how free and expressive queer lawyers are in the workplace – but I see all of this openness as part of a longer march toward more rights, freedoms and acceptance of people who find themselves at the fringes of society coming to the center to add their voices.
EK: Pride Month has meant so many different things to me over the course of the last 20 years. I think today it is mostly appreciation – for my LGBTQ+ community of friends, for the way that the world has changed since I was a teen, and for the pretty boring and very happy life I get to live with my wife. I remember going to my first Pride in 2006 in Harrisburg, Pennsylvania, and spotting a friend's mom and being terrified at the prospect of having to talk to her. This year, after two years of Pride Weekend non-LGBTQ weddings, we will definitely be spending NYC pride Weekend bouncing around the city with friends.