Since Dodd-Frank's enactment in 2010, Davis Polk has offered a growing suite of resources to help institutions and market participants understand and comply with the new requirements and stay informed about recent rules, regulator studies, important dates and upcoming deadlines in the implementation process.
Follow us on Twitter @DavisPolkReg


---
REGULATING FINANCE: DODD-FRANK DECODED
Talks on Law | November 2015
An Interview with Partner Annette Nazareth
The Dodd-Frank Act was enacted as a response to the Great Recession of 2007, but what does this complex regulation do and has it fixed the problems and addressed the causes of the financial meltdown? Annette explains.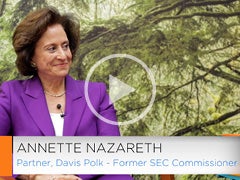 ---