Image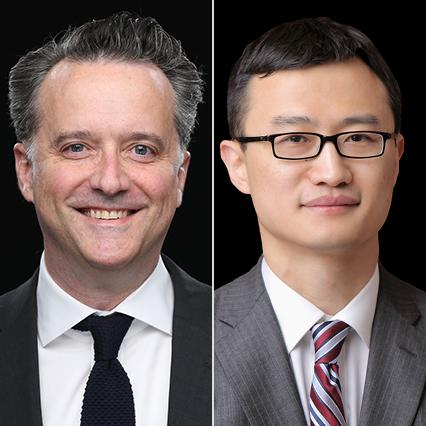 Antitrust & Competition Partner, Davis Polk and Vice President, Compliance at Goldman Sachs
In commemoration of Veterans Day, we, together with Davis Polk's Diversity, Equity & Inclusion team, are pleased to feature a joint Davis Polk partner and alum spotlight with D. Jarrett Arp, Antitrust & Competition partner and head of Davis Polk's Washington DC office, and Hubert Ahn (NY, '15), Vice President, Compliance at Goldman Sachs.
Read on to learn more about their careers in the military and law and what Veterans Day means to them.
You both have served in the U.S. Armed Forces. Jarrett, you were a Captain in the 101st Airborne Division of the U.S. Army. Tell us about that experience.
JA: I very much enjoyed my military experience, which began with an ROTC scholarship in college and, after law school, service with the 101st. I was the legal adviser and prosecutor for one of the Division's three infantry brigades. This led to the opportunity to try a variety of cases as a young lawyer, which was challenging and rewarding. And when not in court trying courts-martial, I spent a lot of the time "in the field" with my brigade, participating in operations and advising on rules of engagement as well as civil-military relationship issues. Among a variety of memorable experiences was the opportunity to work directly for then-Lieutenant Colonel David Petraeus, who was an important professional influence early in my career and remains a valued friend.
Hubert, you were a Specialist in the U.S. Army 2nd Division Infantry from 2003 to 2005 and 101st Airborne Division from 2008 to 2009. Tell us about those experiences.
HA: I enlisted immediately after college, intending to serve four years. But times were quite tumultuous back then – I was discharged and had just taken the LSAT when the Army told me they were recalling me! I reported back and joined a National Guard security attachment to a Provincial Reconstruction team that deployed to Ghazni Province in Afghanistan. I learned a lot about Afghan politics and society while I was there – it was and remains a country of many different, often competitive and even antagonistic groups.
How have your experiences in the military been useful in your careers as lawyers?
JA: As I commenced private practice as an associate, the operational Army experience certainly made me grateful for working in an indoor environment in the winter, where there was always warm food and never a requirement to wear a chemical suit. To be honest, the tougher demands of Big Law felt like a walk in the park after the Army. More important, my experiences on active duty with an amazing group at the 101st taught me a lot about teamwork, leadership, ownership, resilience and the deeper reward that comes from being a part of something larger than yourself.
HA: It has been incredibly useful. I think a big part of the experience was developing perseverance and the willingness to take on tough tasks without flinching, understanding that situations can become tense and unpleasant (and even dangerous) but you have to put one foot in front of the other. Working on leveraged buyouts for highly sophisticated clients wasn't that different in some respects!
Jarrett, you have over 25 years of experience in the antitrust field and are an internationally recognized leader in the area of cartel defense. What do you enjoy about your work? What has been a career highlight for you?
JA: Price-fixing and similar "cartel" investigations often present the highest stakes for our clients and frequently require a multi-jurisdictional strategy. I really enjoy the intensity, complexity and strategic challenge these matters present.
Recently, I was part of a Davis Polk team that achieved an unlikely pretrial dismissal of criminal price-fixing conspiracy charges against a chicken industry executive. The client and his young family had carried the burdens of unjustified charges for three years. We were two weeks from trial. Through exhaustive briefing and an all-day hearing, our team persuaded the court that the government could not prove the conspiracy existed – even under a preponderance of the evidence standard. This led the judge to take the extraordinary step of excluding all 294 "co-conspirator" statements upon which the government's case rested. It was a striking opinion, and a dismissal followed promptly. The creative thinking, unfailing teamwork and commitment to the client our Davis Polk team – and especially our associates – exhibited was just so impressive and, for me, personally inspiring throughout. Our client entrusted his life to us, and this dedicated Davis Polk trial team inverted the odds and delivered for him. I will never forget the experience.
Hubert, after Davis Polk, you went in-house to Goldman Sachs. What attracted you to in-house practice?
HA: I joined the Compliance Department at Goldman Sachs, which works very closely with Legal but is its own entity. Almost half the compliance officers in my group actually went to law school and/or practiced law, sometimes for quite a while. Within Investment Banking, the compensation is competitive and you definitely use a lot of what you learned as a lawyer in this role. The primary difference is that, while Compliance's purpose, similar to in-house Legal, is to comply with government laws and regulations, your responsibility is to establish, oversee, enforce and interpret a policy framework to comply with such regulations, versus interpreting the laws and regulations themselves.
How has your experience at Davis Polk been useful to your career? And do you have any memories from your time with the firm that you would like to share?
HA: It was immensely valuable. The soft skills alone (email protocol, communicating with different types of clients, etc.) provide tremendous ability to jump into other situations where you are constantly communicating with highly motivated counterparties in high-stakes situations. The overall approach to addressing legal questions also has a lot of value in addressing compliance concerns. And the technical knowledge of debt products and other features of corporate and sponsor-driven transactions I became intimately familiar with while in the Finance group at Davis Polk has major touchpoints to any control-side role at an investment bank like Goldman Sachs, but particularly divisional compliance in Investment Banking.
As for memories, I generally remember how nervous I was when starting, how convinced I was that I was a total mess and how supportive partners and senior associates were.
Jarrett, you joined Davis Polk in 2020. What drew you to the firm?
JA: The true collaborative culture and consistency in quality and excellence across the firm were really striking. It felt like a once-in-a-lifetime opportunity to join a storied firm with a clear strategy and strong momentum. Two years in, I could not be happier and feel very lucky to be a part of Davis Polk.
You have been on the Board of Governors of the Folger Shakespeare Library in Washington since 2016 and now serve as its chair. How did you become involved in the organization and what does it mean to you?
JA: The Folger was our local "family theater" for years and two of our sons participated in Folger's drama and poetry programs. The Folger houses the largest collection of Shakespeare-related material in the world, including 82 so-called First Folios, the 1623 first printed collections of Shakespeare's plays. We are in the middle of a major renovation that will transform the Library's relationship with the public. When we reopen our doors next year, we will share previously unseen riches from our vault in a new exhibition space, return the Folger Theatre to its home stage and, most importantly, extend a warm welcome to guests of all ages, all perspectives and all backgrounds. For Davis Polk alumni who enjoy Shakespeare or rare works from the Renaissance and beyond, please be in touch anytime – and come see us. The Library is across the street from the Supreme Court and the Library of Congress.
What does Veterans Day mean to each of you? And how will you mark the day?
JA: It is a day on which I reflect and give thanks for those who have served and those who presently serve. The U.S. military is of course held in high regard in the United States. But I think there is still a gap in awareness among the general public with respect to the exceptional level of professionalism, courage and character that so many in the services exhibit every day in the context of hard demands, discomfort and danger. Our military members are remarkable. In particular, we owe a continuing debt and duty of support to those who have borne the burdens of combat. It is something to remember on this day and every day.
HA: So much of this country's history has involved our veterans. I think Veterans Day is a good reminder for everyone that, for good and for bad, our citizen military has been involved in building that history, and we should always be mindful of the human costs associated with military intervention.
I'm not sure how I will celebrate! Maybe I'll give a ring to some of my old Army buddies. I'll try not to watch Black Hawk Down, which is what I did when I first enlisted, for some reason.