Image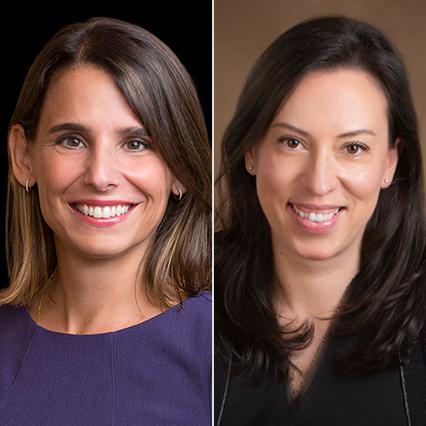 White Collar Defense & Investigations partner and Counsel at The New York Times
In celebration of National Hispanic Heritage Month, we are pleased to feature a joint Davis Polk partner and alum spotlight with Tatiana Martins, White Collar Defense & Investigations partner and a member of the firm's Hispanic/Latin American (H/LA) Affinity Group Steering Committee, and alumna Rosa Neel (NY '07), Counsel at The New York Times Company.
Read on to learn more about their careers and commitment to diversity.
Rosa, you work as Counsel at The Times. What does your typical day look like?
RN: I provide strategic advice to business leaders managing various areas of The Times in relation to existing commercial relationships or deals in the pipeline. I touch a variety of areas, including major technology platform relationships, payments processing and contracting with the federal government. My typical day includes both advising on developing topics, like artificial intelligence and other technology, and supporting long-standing business verticals, like subscription sales and intellectual property licensing. To quickly pivot from one of these matters to the next, I depend on my calendar to tell me where I need to be at any given time.
Tatiana, you started your career at Davis Polk in 2005 and moved to the U.S. Attorney's Office (USAO) for the Southern District of New York (SDNY) in 2012. Tell us about what prompted that move.
TM: I had a wonderful experience as an associate at Davis Polk, working on interesting and complex litigation and white collar matters. My move to SDNY had nothing to do with a desire to leave Davis Polk, but rather everything to do with my long-standing dream of serving my adopted country. I immigrated to the United States when I was seven years old from Brazil with my mother, stepfather and sister. My father, who remained in Brazil and who lives there today, was a political dissident during a two-decade-long military dictatorship that ended in 1985. He was imprisoned for his anti-government views and later reimprisoned when his sentence was extended in absentia, without any due process. The capriciousness of the legal system he experienced was one of the reasons I went to law school. And it was one of the reasons I wanted to become a prosecutor. I wanted to stand up in court and say that I represented the United States, a country that is founded on the principles of due process and fundamental rights. As a prosecutor, I tried as best I could to uphold those ideals and to bring to bear my own background and experiences in executing a function that brings with it tremendous power over people's lives. 
I applied to SDNY in particular because, as an associate, I had the great fortune of working with, and learning from, some incredible partners who had been prosecutors in that office earlier in their careers, including Bob Fiske, Scott Muller, Jack Cooney, Denis McInerney and Martine Beamon. I thought that if SDNY had contributed in any way to the exceptional lawyers and people that they were (and are), then that was the office I wanted to join. 
How did your experience at Davis Polk inform your work at the USAO?
TM: I knew from the work I had done at Davis Polk, especially in matters relating to the Foreign Corrupt Practices Act, that I was really interested in corruption cases. After two years of prosecuting a variety of frauds, narcotics, sex trafficking, and gun crimes, I joined the Public Corruption Unit. 
I loved the work I did in that unit – building public corruption cases is really challenging. Even when there is little dispute as to the tangible facts of a case, proving that an elected official had a corrupt state of mind in undertaking certain public functions can be incredibly difficult. The skills I learned as a Davis Polk associate were put to the test every single day as an AUSA: to be self-starting; to sweat the details; to anticipate issues; to be organized; to think creatively about problems; to be diligent; to be faithful to the facts; and not to give up just because an issue is difficult or complex. Those skills helped me in some important and high-profile cases, including against the then-NY Senate Majority Leader Dean Skelos and his son, and later in the successful retrial of former NY State Majority Leader Sheldon Silver.
"[W]e can lean into our differences and don't have to lose the best part about
ourselves to fit in."
            – Rosa Neel
Rosa, do you have a memory from your time at Davis Polk that you would like to share?
RN: Some of my favorite memories are of advising on Latin American capital markets deals. I represented Argentina's leading energy company in a proposed offering of equity and had the opportunity to travel to Buenos Aires several times (with former partner Nick Kronfeld and former associate George Sirignano), which was fascinating and resulted in making some good Argentinian friends. I also represented Banco Santander Brazil in a $7 billion initial public offering, the world's largest in 2009 and largest ever at the time in Latin America.
Tatiana, you became Chief of the Public Corruption Unit for the USAO in 2017. Tell us about your time serving in that role.
TM: After the Skelos trial, I conducted an intense and public investigation involving City Hall, and then went out on maternity leave with my third child. When I returned, I was promoted to Deputy Chief of Public Corruption and then to Chief. What made my job as the head of that unit sweeter and easier was that more than one-quarter of the AUSAs that I supervised were former Davis Polk associates! We charged and tried a number of important and groundbreaking cases during that time. But more than making cases, what I loved about being a supervisor was helping other AUSAs work through issues, think about investigative angles, liaise with law enforcement agents (an AUSA's "client") and map out trial strategies. It's the kind of collaborative teamwork and mentoring that continues to be such an important and rewarding part of my job now as a partner here at Davis Polk.
You returned to and became partner at Davis Polk in 2018. What drew you back to the firm?
TM: While I was at SDNY, I knew that I would not work there forever. But I was not sure that I would have the chance to practice law in a place like Davis Polk again. Luckily, I had the opportunity to come back to the firm and work again with lawyers who have been my greatest teachers and supporters, and with a group of associates that is second to none in terms of their intelligence, diligence, creativity, and work ethic – and who also value and actively contribute to the special culture that makes Davis Polk truly unique among our peers.
"It was daunting to step off the treadmill, but spending that time abroad together and getting to know a place like Mozambique and the other places in Africa that we visited ended up being one of my formative experiences in life."
          – Tatiana Martins
Rosa, what advice have you received in the past that has served you well in your career?
RN: There are many paths to success and there is no one way to get it right. The road we take is not always a straight one, and each turn makes us a better professional and leader.
You created The Times' first-ever law student legal internship based on participation in NYU's AnBryce Scholars program. Tell us about the internship and what prompted its creation.
RN: I was an AnBryce Scholar when I was a law student at NYU Law, and I wanted to give current scholars an inside look at what it is like to work in-house and to work at The Times. The AnBryce Scholarship is an award at NYU Law for first-generation law students who have achieved high academic success despite socioeconomic adversity. After admission, students undergo a rigorous interview process to compete for a limited number of spots.
For law students who don't grow up with lawyers in their circles of family and friends, some legal career options may not be as apparent. Every fall, one AnBryce Scholar can participate in a paid internship and obtain a variety of networking and learning opportunities within The Times in-house legal department.
Tatiana, in 2010, you volunteered with the International Organization for Migration through the United Nations to raise HIV and AIDS awareness in Mozambique. Tell us about that experience.
TM: My husband (whom I met at Davis Polk when we were both young associates) and I wanted to spend time living and volunteering abroad before having kids. So in 2009 we both left Davis Polk, closed up our apartment, packed two backpacks and embarked on a yearlong adventure that included six months in Mozambique volunteering with a UN agency. We chose Mozambique because it is Portuguese speaking, and we felt that we could integrate more fully into the culture there given we both spoke the language. We volunteered on an HIV/AIDS-related project that involved workers at cashew factories. It was daunting to step off the treadmill, but spending that time abroad together and getting to know a place like Mozambique and the other places in Africa that we visited ended up being one of my formative experiences in life.
Rosa, what does Hispanic Heritage Month mean to you?
RN: Hispanic Heritage Month is a reminder of the progress that still needs to be made in equity and inclusion. It also prompts us to remember that a rich cultural perspective adds value to the workplace – a broader set of experiences and sensitivities gives us more powerful ways of interacting and leading. Therefore, we can lean into our differences and don't have to lose the best part about ourselves to fit in.
Tatiana, how will you celebrate Hispanic Heritage Month?
TM: I am on the steering committee of our Hispanic/Latin American Affinity Group and we are sponsoring a series of events this month that are designed to be inspiring, educational and fun! I am particularly looking forward to a fireside chat with Rick Gonzalez, who is a Davis Polk alum and currently Chief M&A Counsel and Chief Corporate Counsel at PepsiCo. It's always inspiring to hear about how other Latinos have navigated their careers and how their backgrounds have influenced their paths.