Image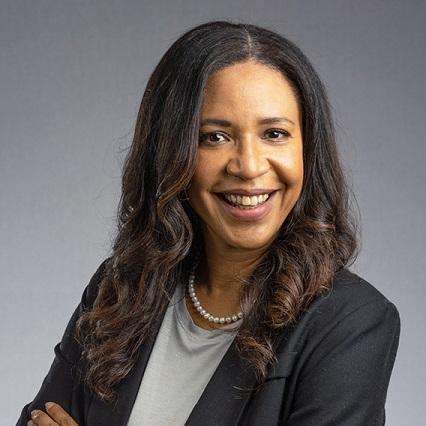 Founder of Take Office
We recently caught up with Jeri Powell ('07), founder of Take Office, a nonprofit helping women advance in politics and public policy, and Adjunct Associate Professor at Columbia University School of International and Public Affairs (SIPA). SIPA awarded Jeri its Outstanding Teaching Award for 2022.
Jeri began her career as a corporate associate in Davis Polk's Paris and New York offices before transitioning to a career in government and academia. Between Davis Polk and founding Take Office, Jeri served as the Director of Intergovernmental Affairs for the New York City Department of Investigation.
Read on to learn more about Jeri's mission at Take Office and her advice to those interested in government.
Take Office supports women new to politics on their path to seeking elective office and other positions of influence in politics and public policy. What inspired you to start the organization?
I've been fortunate to have professional experience working at senior levels in government, advocacy and politics. Over the years, I observed so many talented, diverse women who were working deeply behind the scenes and it occurred to me that we urgently needed those women to be leading from the front. Many of the women I work with at Take Office want to make an impact in government and public policy but were either indifferent to, or actively turned off by, the political process. My mission is to demystify politics and help connect the dots so that the women in my program can take their knowledge and expertise and apply it in new ways. I had a vision for a training program that would approach this challenge through a nonpartisan, diverse, gender-equity lens and also that would give equal weight and focus to running for office and serving in senior appointed government positions. I didn't see such a program anywhere, so I decided to create it.
What aspirations do you have for the organization?
We've seen great success since the first pilot launched at Columbia SIPA in January 2020. A number of our participants have run for office and have taken key leadership positions at local, state and federal levels. New York State Inspector General Lucy Lang came out of our first cohort and subsequently ran for Manhattan District Attorney. New York City Deputy Mayor Sheena Wright and Bronx Deputy Borough President Janet Peguero were in that first cohort as well. In addition, current White House Press Secretary Karine Jean-Pierre led the first cohort's Diversity, Equity and Inclusion in Politics session and it was one of the most powerful sessions we've had to date.
So far, we've had three cohorts, and there are over 100 women in the Take Office community. We've placed several women on local Community Boards, and a number have made career moves putting them in more senior positions at nonprofits and political strategy firms. So, we're clearly on the right track! Our goal is to grow so we can train more women in each cohort and have more cohorts annually.
I am actively working on an international expansion of the program. From the start, with the support of our fiscal sponsor KBF Canada, we have had Canadian women participate. One of our graduates, Emilie Nollet, just ran for provincial office in Quebec. Another, Chi Nguyen, ran for office in Ontario. An international approach comes naturally to me, having spent nearly two years at Davis Polk's Paris office, which remains one of the highlights of my professional and personal life. More than half of my SIPA students are international students, and gender equity in politics is something that changemakers are grappling with the world over. I would love Take Office to be a part of that global conversation as well.
In addition to running Take Office, you currently teach at SIPA as an Adjunct Professor. Tell us about what prompted the move into academia.
I absolutely love teaching and I've been so fortunate to have the opportunity to do so at Columbia where I earned by law degree. I owe a deep debt of gratitude to Professor Ester Fuchs of SIPA, who was instrumental in introducing me to the school to teach based on the strength of Take Office's impact and my earlier work in government at the New York City Department of Investigation. I think many universities really appreciate practitioners and people who can bring real-world perspective and expertise to their students.
What advice do you have for lawyers interested in transitioning their career into government and policy?
Besides signing up for the next Take Office cohort training, following your interests and seeing where that leads and reaching out to your networks is going to yield great results. I built a lot of professional credibility over the years through serious volunteer work, particularly through the New York Junior League and by being a member on nonprofit boards, including those of Democracy Prep Public Schools and the Single Parent Resource Center. Volunteering can help you explore your interests and develop potential career transitions. For me, volunteering led to career opportunities being presented to me in an organic way. There is no single linear path, and the pathways will look different for everyone. Don't be afraid to cold call someone with whom you might have a connection, such as another member of the Davis Polk community or fellow grads of your alma maters. I'm always happy to hear from people who are looking for guidance.
Do you have any other projects in the works that you can share with us?
At Columbia, in addition to teaching my course "Race, Gender and Political Change," I'll be supervising a group of SIPA students on their capstone project looking at gender equity in the garment industry in Jordan. I'll also be taking on a select few legal clients who are running for office in New York City in 2023 (yes, it's another election year!). I'm looking forward to supporting women on their political journeys in this new way. To anyone, of any gender, reading this who might be exploring a run for office in 2023, I would love to hear from you! There is so much work to do, and our communities need your talents.