Image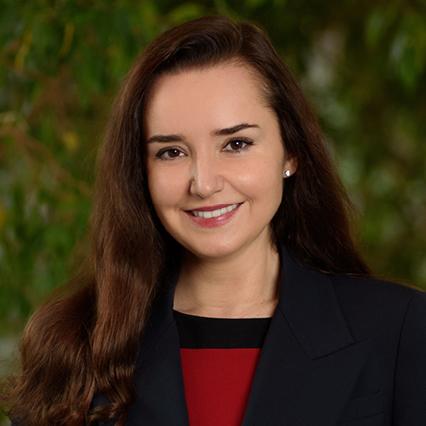 Senior Vice President, Head of Global Corporate, Securities & Intellectual Property at Ralph Lauren
We recently caught up with Andreea Stan, Senior Vice President, Head of Global Corporate, Securities & Intellectual Property at Ralph Lauren. Andreea began her career as an associate in Davis Polk's Capital Markets group before transitioning into in-house practice, first in media and now in fashion.
Read on to learn about the array of issues Andreea works on day to day as well as how she unplugs during the weekend.
Tell us about your role at Ralph Lauren.
My role is multifaceted and has expanded considerably in my five years at Ralph Lauren. Now, as head corporate and IP attorney, I advise senior management and the board of directors on issues including securities law compliance and earnings reporting, corporate governance and strategy, global IP matters, financings, significant transactions, executive compensation, and corporate social responsibility and sustainability. As Board Assistant Secretary, I work closely with our directors on strategy engagement and risk oversight, as well as the board refreshment process that has led to expanded board diversity with the recent addition of four new board members. I also advise on corporate philanthropy matters and serve as an officer of the Ralph Lauren Corporate Foundation.
Recent work highlights include legal oversight of our Investor Day at the NYSE in September, where we announced our new accelerated strategic growth plan, partnerships and investments in innovative technologies to help drive our sustainability initiatives, and a $25 million commitment by the Foundation – our largest to date – to cancer care initiatives to help address health disparities in underserved communities, recognized by President Biden in his Cancer Moonshot Program. Ralph Lauren's ambition is to become the leading luxury lifestyle company in the world, and it is an honor and inspiration to be a legal partner to our business teams.
Is there any issue or challenge within the fashion industry that you are focusing on lately?
My role has been increasingly focused on sustainability, an area in which the fashion industry does not historically have a great reputation and in which stakeholder engagement continues to increase, including through consumer purchasing power, driving action across the fashion industry to mitigate its impact on the environment. We want to play a leadership role in this area, and I am closely involved in "Timeless By Design" – our evolved strategy for global citizenship and sustainability which is grounded in our enduring philosophy of timelessness and making products that last through generations. Our progress on this journey is reflected in the groundbreaking launch of our first product using a first-to-market patented technology for high-performance recycled cotton and our introduction of a revolutionary dyeing platform. That "Color On Demand" platform will transform how the fashion industry colors cotton by significantly saving water and dramatically reducing the amount of chemicals, dye, time and energy used. I partner with our sustainability, global impact and innovation teams to design our sustainability goals and strategy, track our KPI progress, develop our public commitments and disclosures, coordinate legal protections including patents and trademarks, ensure board oversight of sustainability matters, and engage with various stakeholders including employees, consumers, investors and industry groups.
I recently advised on the launch of a founding grant by the Ralph Lauren Corporate Foundation and the Soil Health Institute to fund and establish the U.S. Regenerative Cotton Fund – an industry-first initiative – supporting long-term, sustainable cotton production in the U.S. with the goal of eliminating one million metric tons of carbon dioxide equivalent from the atmosphere by 2026 and supporting our own corporate goal of using 100% sustainably sourced cotton by 2025. I'm very proud of this important work.
What are evolving legal issues in the fashion industry?
Fashion is always at the forefront of innovation, and fashion technology is growing at a faster pace than ever. Advances have included AI in design, radio frequency identification (RFID) for product tracking and authentication, endless aisle, personalization and virtual clienteling tools, and AR/VR for redesigned online and in-store experiences. A complement to this is our recent entry into the metaverse, the new frontier of the fashion world. Today consumers can buy Ralph Lauren digital apparel and make a virtual visit – or even have a virtual coffee – at our Madison Avenue store. Ralph Lauren is participating in metaverse platform Zepeto and online gaming sites Roblox and Fortnite, where shoppers can dress their avatars in Ralph Lauren digital apparel. These unique partnerships and economic opportunities continue our legacy of storytelling on new platforms and reach the next generation of consumers where they are.
The metaverse has given rise to new legal considerations, including a new spin on traditional IP laws and brand protection, data protection and privacy, authentication, smart contracts and tax issues. The fundamental legal principles I learned in law school and at Davis Polk provide an excellent foundation for navigating the evolution of the law governing these new platforms. It's an exciting time!
After Davis Polk, you went in-house to Viacom followed by roles at other media companies and now Ralph Lauren. What attracted you to in-house practice?
I enjoyed my work in Davis Polk's Capital Markets group, and especially the energy around pricing and closing deals. With each closing, I remained interested in keeping a business continuity with clients, seeing how the capital we raised was allocated, how strategic choices were made and implemented, and how corporate governance and the board directed corporate behavior. As I grew in my role, the more interested I became in being closer to business decision-making in-house, interfacing with the executive management team and the board, focusing on one client and adding ongoing and direct value to business strategy and growth, and serving as a critical part of implementing legal advice and not only dispensing it. I wanted to be directly involved in the corporate governance process and work closely with a board as members exercise their fiduciary duties and oversee corporate strategy and risk management.    
How has your experience at Davis Polk been useful to your current role?
Davis Polk has been a great alma mater! I credit my current skill set, legal and business acumen, and resilience to my years at Davis Polk working on complex deals and client advice with outstanding partners like Michael Kaplan, Richard Truesdell, Deanna Kirkpatrick, Ning Chiu and Meg Tahyar. Davis Polk truly has the best attorneys I've worked with in my career, and I am fortunate to continue to work with Davis Polk on Ralph Lauren's regular bond financing deals.    
One of the best pieces of advice I received from Chris Mayer, now senior counsel, during my rotation in the M&A group was to leverage the power of silence in negotiations. Favorite memories from Davis Polk include working on the Visa IPO, the largest U.S. IPO at that time; the Federal Reserve Bank's restructuring of AIG, which remains one of the more complex deals I've worked on; and my secondment to Cigna at their headquarters in Philadelphia, which first exposed me to in-house work and the excellent Barnes Foundation museum.  
What do you find most satisfying about your work?
Mentoring and growing my corporate and IP teams is the most rewarding part of my role. A team with great people and a thriving work culture is paramount to putting strategy into action and ensuring long-term growth and success. Leadership development, and particularly sponsorship of talent for career growth, are deeply important to me as I've seen firsthand the rewards of having an engaged and empowered team. I believe our legal team at Ralph Lauren, which includes several Davis Polk alumni, is best-in-class across each area of expertise.
Tell us about your typical weekend.
Weekends are for relaxing and going analog. I love spending long mornings with my partner, Sam, as we catch up with the news and my favorite newspapers/quarterlies delivered to our door, including the Financial Times, Washington Post, WSJ, NYT Foreign Affairs, with Gray Squirrel coffee (our new favorite bean in rotation). Art law and the business of art have been a longstanding passion of mine, and Sam and I are currently doing a masters certificate in the arts through Christie's and usually reserve the weekends for the workshops and gallery tours. The "One with Eternity" exhibition of Yayoi Kusama at the Hirshhorn Collection in DC is a particular recent favorite.