Our U.S. summer programs in New York, Washington DC and Northern California provide you with an all-encompassing experience of work and life at one of the world's top-rated firms.
How to apply
The application period for the 2024 Summer Program has closed.
Applicants may also be interested in our Davis Polk 2L Diversity, Equity & Inclusion Fellowship.
Image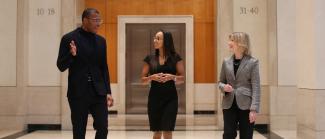 What to expect
Real work: As a summer associate, you'll work closely with partners and associates on significant cases and transactions that involve complex legal issues and well-known companies and financial institutions. As a new team member, you will be fully integrated and receive the same level of responsibility as any first- or second-year associate. You will draft documents, participate in conference calls, go to client meetings and court, possibly travel on client business, and conduct meaningful research – work that is of value to our clients and to the firm.
A program tailored to your needs: Unique to Davis Polk, select junior associates, in corporate and litigation, work full-time as the summer program coordinators and are tasked with ensuring that each summer associate receives a range of work assignments and has a fulfilling summer experience overall. The summer coordinators will meet with you to discuss your practice areas of interest and any other personal or professional goals you have for the summer, and will continue to meet with you regularly throughout the program.
Professional development: We offer over 20 formal training sessions throughout the summer program, including department and practice area overviews, corporate and tax immersion programs and associate profiles. These overviews and training sessions are designed to introduce you to the work and career paths available to you at the firm, and you are encouraged to take on assignments from any of our practice areas.
Mentoring: You will be matched with both a partner mentor and an associate liaison who will introduce you to the firm and provide ongoing professional guidance. Our mentors get to know the summer associates by working with them on assignments and attending lunches, dinners and other informal social events. 
Cultural and social events: Baseball games, cooking classes, neighborhood food tours, candle making, axe throwing, Broadway shows – we plan a range of events designed to introduce you to New York, Washington DC or Northern California and give you the chance to get to know your Davis Polk colleagues.
Pro bono opportunities: Summer associates work on a variety of existing matters, including amicus briefs to the U.S. Supreme Court, court reform projects, asylum cases, and corporate and real estate transactions for public service organizations, among other projects. In addition, they have the opportunity to work on new matters we accept specifically for the summer program. In the New York summer program, we offer two-week externships at several local public interest organizations.
Rotation/split opportunities: Some of our summer associates are selected to spend some time working in one of our overseas offices while others split their time between New York and Washington DC or Northern California. Additionally, some summer associates have had the opportunity to travel on a client matter.
Program offices
New York
Our New York office is the firm's largest, with a comprehensive range of corporate, litigation and tax practice areas. Our strong presence in this global financial center has been cultivated over decades, and the firm and its lawyers are ingrained in the city's major business sectors and financial markets.
Summer Associates in New York are paid an annualized salary of $215,000, prorated for the number of weeks worked.
Washington DC
Our Washington DC office's key practices – white collar government investigations, financial institutions (focusing on trading and markets and bank regulatory advice), antitrust and competition, and national security – are active in areas as diverse as government investigations, the regulatory and enforcement aspects of mergers and acquisitions, and the impact and implementation of financial regulations and reforms.
Summer Associates in Washington DC are paid an annualized salary of $215,000, prorated for the number of weeks worked.
Northern California
Our Northern California office reflects the firm's traditional strengths in advisory and transactional practices (including capital markets and M&A) as well as litigation (including both commercial and IP litigation).  We serve clients nationwide and around the globe, with a special focus on the West Coast and the distinct needs of technology and life sciences companies.  Our office is located in Menlo Park and we have a large workspace in central San Francisco for lawyers who prefer to work in the city.
Summer Associates in Northern California are paid an annualized salary of $215,000, prorated for the number of weeks worked.
FAQs
---
How are assignments distributed during the summer program?
Work assignments are made through the full-time summer coordinators (in litigation and corporate) who take leave from their regular practice to plan and run the summer program. There is no rigid assignment or rotation system for summer associates. The summer coordinators work to provide summer associates with assignments in their principal areas of interest.
---
---
How much partner contact is there? Are partners accessible?
All summer associates will work with partners, and the firm's "open-door" policy encourages frequent interaction among all lawyers. In addition, each summer associate is assigned a partner mentor. The mentor gives the summer associate his or her mid-summer and end-of-summer reviews, often works with the summer associate, and checks in with the summer associate on a regular basis. There are also many social opportunities to meet partners, including a formal welcome dinner for partners and U.S.-based summer associates.
---
---
What type of work is given to summer associates?
We give summer associates work that would be appropriate for first- and second-year associates, including legal research, drafting legal memoranda, court papers and corporate documents, performing due diligence and participating in many other aspects of corporate transactions and litigation matters.
---
---
How does the review/evaluation process work?
Summer associates receive regular feedback from lawyers with whom they work. In addition, two formal evaluations are given by a partner during the summer – a mid-summer review and a final review.
---
---
Can I do a rotation at one of Davis Polk's overseas offices during the summer?
Summer associates may request a rotation to our London, São Paulo, Madrid, Hong Kong, Beijing or Tokyo offices. Selections are made in the spring and are based on the needs of these offices, a summer associate's long-term interest in working in the selected office as a full-time associate, and necessary or helpful language skills. Summer associates who are selected for an overseas rotation are required to work at the firm for a minimum of 10 weeks during the summer. Summer associates are assigned to an overseas office for four weeks; many others work or travel domestically.
---
---
What happens if you receive a clerkship?
Summer associates who decide to clerk following graduation and who receive an offer from the firm may defer their offer until they complete their clerkship. Class credit is given for up to two years for clerkships at the U.S. federal or state court or Canadian court level. Upon arrival at the firm, eligible clerks receive a bonus of $50,000 for a one-year clerkship and $70,000 for a two-year clerkship or two one-year clerkships.
---
---
What is the policy on splitting the summer?
New York summer associates interested in splitting their summer are required to start at Davis Polk and work at the firm for the first eight weeks of the program. They may then split their summer with another law firm outside of New York City or work within New York City at a government, nonprofit or financial institution. These same policies apply to our Washington DC and Northern California summer programs, and those summer associates may only split with another firm outside of those respective markets after first working eight weeks at Davis Polk.
---