Image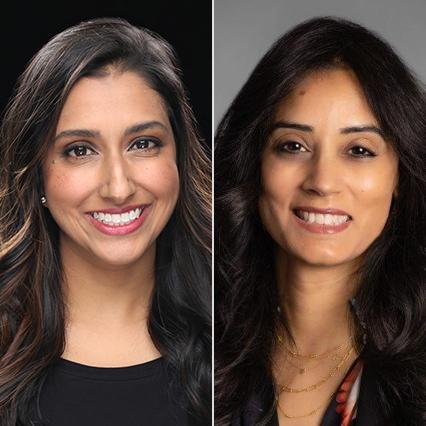 Capital Markets Partner, Davis Polk and Senior Vice President, Deputy General Counsel & Corporate Secretary for American International Group
In honor of Women's History Month, we are pleased to feature alumna Prabha Sipi Bhandari (NY '97), Senior Vice President, Deputy General Counsel and Corporate Secretary for American International Group, Inc. (AIG), and Roshni Banker Cariello, a Capital Markets partner and member of the firm's DPWomen Affinity Group.
Read on to learn more about their careers, their work in supporting women in the legal profession and what Women's History Month means to them.
Sipi, after Davis Polk, you went in-house to Viacom (now Paramount Global) followed by Deutsche Bank, Freddie Mac and AIG. What attracted you to in-house practice and what do you find most satisfying about your work?
SB: While I loved my time at Davis Polk, I wanted a closer relationship to a company's business and the ability to influence the decisions that shape an organization. Such decision-making starts way before a matter or transaction reaches a law firm and lasts long afterwards. In various and increasing ways, I have had such roles at each of my organizations. And now at AIG, I greatly enjoy being able to work across the company, to think strategically about our priorities and to partner with the business to help propel it forward. I'm equally energized by my role as Corporate Secretary. It allows me to build trusted relationships with the board of directors and to have a seat at this table along with the senior management who support the board. I also really enjoy developing talent – I love helping to shape younger careers and sharing the wisdom I've gained in my own.
How has your experience at Davis Polk been useful to your in-house roles?
SB: I could not have asked for a better start to my corporate legal career than at Davis Polk. As a young associate, I had a front-row seat working on some of the most sophisticated and complicated matters with an exceptional group of talented attorneys who operate at the highest levels of our profession. I learned by doing and I learned by observing. I learned the importance of choosing my words well and structuring my sentences with meaning and precision. In-house counsel can't be effective it they can't tailor messaging to how stakeholders best receive information and advice.
The softer skills I observed in action at Davis Polk have been equally if not more critical to my success in-house. Davis Polk partners have always had a one-firm mentality and they bring the collective wisdom of the entire firm to their clients. In every organization I've been in, I have harnessed that collaborative spirit to bring people together across legal, business and finance functions to optimize decision-making and solve problems. At AIG, we prioritize winning together – it is a core value. Teamwork does indeed make the dream work.
Davis Polk partners are also patient and kind, and I do think those are two attributes that set Davis Polk apart. At the risk of stating the (incredibly) obvious, people are human, which means we bring our whole selves to work and all the messiness that may sometimes entail. But having compassion, staying even-keeled and treating people with dignity and respect, even if perhaps the person opposite you is failing there in that moment, is very important to me.
I could not finish this conversation without emphasizing the power of the Davis Polk network. I would not be at AIG today without it. I report to Lucy Fato, a former Davis Polk Capital Markets partner and AIG's General Counsel & Global Head of Communications and Government Affairs. We never had the opportunity to work together at Davis Polk, but through this incredible network, I now have the privilege of working with her every day.
Was there an individual at Davis Polk who played an especially important role for you during your time at the firm?
SB: I have had wonderful Davis Polk role models. Phillip Mills taught me so much and continues to be a mentor for me now, as well as a very good friend. I worked on several deals with him, and he placed a lot of confidence in me early on. So many lessons learned working with Phillip! – the importance of integrity, hard work and excellence; the power of a long silence during negotiations; the knowledge that it's OK not to have all the answers all of the time and that those moments, in fact, build trust. Because I still work frequently with Davis Polk, I have the good fortune to benefit from the wise counsel of many others too: Meg Tahyar, Richard Truesdell, Sartaj Gill, Kyoko Takahashi Lin and Ning Chiu, to name a few.
I met some of my dearest, closest forever friends because of Davis Polk, for which I am most grateful.
"My mom has always been a source of inspiration to me. Emulating her has helped shape me into the woman and leader I am today."                                                                                                                                 –    Prabha Sipi Bhandari
Roshni, turning to you now, you joined the firm after law school and became a partner in 2020. Why did you choose to begin and develop your career at Davis Polk?
RC: I chose to begin my career at Davis Polk for the same reason I suspect most of us chose to begin here – I wanted to join a firm that would provide me with the training that is fundamental to becoming a successful lawyer, to work on the most challenging transactions and do so at a firm that valued a culture of respect and collaboration. I chose to build a career here for the same reasons – it's a privilege to come to work each day with such smart and motivated people across the firm, solving complex problems in creative ways to deliver a truly excellent level of client service.
What do you find most satisfying about your work?
RC: Building relationships as a trusted adviser to our clients – helping them look around corners, anticipating issues, working through solutions and guiding a team effort that cuts across different practice areas to help achieve their strategic objectives. It's incredibly rewarding to know that I play even a small part in a successful outcome for my clients, whether it is on a personal or business level, and to do so from within such a strong and supportive community of lawyers.
What do you consider your career highlights thus far?
RC: I have worked on large transformative deals over my time at the firm and achieved many more smaller victories for my clients, both of which are a highlight in their own ways. But when I look back at my career thus far, the real highlight is that I was able to do so while also raising two happy little boys. The push and pull of balancing motherhood with a job as demanding as ours can feel like a bit of a rollercoaster (and the sleep deprivation is real!), but it is so gratifying to have built this career as an example to my children. I want them to take the same pride in their work one day and pursue their ambitions wherever it may lead them.
Sipi, turning back to you, over the course of your career, what changes have you seen or experienced that support women in the workplace? What challenges do you think still need to be addressed?
SB: Certainly, compared to when I started practicing law, there is more attention paid to the lack of representation of women in senior leadership positions. I have found many men to be equally engaged in this conversation, which is crucial. Women need not only women allies but men allies as well. And there are certainly more women now leading legal organizations in public companies. Lucy is a great example of someone who actively supports women and develops sustainable networks toward that goal. She speaks frequently about the need for this profession to do more for women, and she models being a strong and dynamic leader every day.
We need more women at the highest levels of law, business and government. Women leaders can have a transformational impact on equalizing the representation of women in the C-suite. We can shape workplace cultures and policies to be more inclusive and collaborative and that address the myth of the work-life balance. To get more senior women leaders, we need more great women in the pipeline, which means more mentoring and more sponsorship so that women are promoted and get the experiences they need to reach the top. I think there is a great opportunity for in-house senior women to mentor law firm women associates. We in-house counsel want to share our experiences and help drive associates' growth, whether they stay in the law firm environment or move in-house. Either way, it's a win.
You are a member of and sit on the steering committee of Women in M&A (WiMA), NY Chapter. Tell us about the organization's work and your involvement.
SB: A great segue! The data on the disparity of men and women in M&A is clear. The founding principle of WiMA is that women will stay in M&A if they are successful and rewarded. To that end, WiMA is a national network of senior women in M&A focused on enhancing and elevating each other's careers. To my earlier point about pipeline building, I and other members of WiMA participate in law school panels across the country organized by the ABA Women in M&A Subcommittee to speak specifically with 1Ls. We have found that getting to women at that stage is impactful because we can influence their thinking about M&A as a career choice and the course selections that support that goal.
Roshni, tell us about your experience serving as a member of the firm's DPWomen Affinity Group?
RC: Serving as a member of the DPWomen Affinity Group is one of the most important roles I play at the firm. The affinity group supports a community I have relied on since I was a first-year associate – it has created a space for women to come together, encourage one another, address shared experiences, acknowledge diversity, and foster individual and collective opportunities for mentorship, sponsorship and growth. I am thrilled to now work with this exceptionally talented group of women as a partner liaison and excited for all the programming the group has planned for this year.
Sipi, what advice do you have for women lawyers who work in-house or are contemplating transitioning to an in-house role?
SB: I don't know that my advice is different for women and men. Networking is crucial not only for career opportunities but also for career development. Don't confine yourself to traditional ways of networking. Let people know you are interested in a move – you never know where, when or from whom your next opportunity may present itself. Create your inner circle early and nurture it often. Include both men and women, and those you respect in your professional life as well as in your personal life, to gain different perspectives.
Also, careers are not linear. They zig zag, they may move a couple steps backward or laterally before they leap forward. It's important to keep an open mind to new opportunities that don't fit the plan you initially set out for yourself and to maintain a strong curiosity.
And advocate for yourself!
"The push and pull of balancing motherhood with a job as demanding as ours can feel like a bit of a rollercoaster (and the sleep deprivation is real!), but it is so gratifying to have built this career as an example to my children."
     –    Roshni Banker Cariello
What does Women's History Month mean to you?
RC: Celebrations like Women's History Month serve as a great reminder to reflect on the progress of women in the legal profession – certainly to recognize our successes (which are many – the landscape has dramatically shifted in even just the last ten years) but perhaps more importantly to challenge ourselves to think about the work still to be done and how we might continue to drive meaningful change.
SB: Women's History Month is a great time to reflect on the incredible women who have influenced my life. My maternal grandmother was married at a very early age by Western standards but a fairly typical age for her generation in India, and she didn't have an opportunity for formal higher education. But she was intensely curious, loved books and taught herself to read. She insisted that my mother and aunts be the first in their community to be college-educated. My mom came to this country fluent in two languages and learned English by watching soap operas. Moving across the world away from her family and support system and building a new life here took immense courage and resilience. My mom has always been a source of inspiration to me. Emulating her has helped shape me into the woman and leader I am today.