Image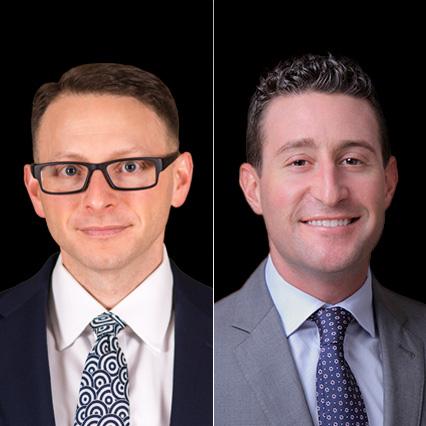 Antitrust & Competition Partner, Davis Polk and Vice President, Government Affairs, Goldman Sachs
In celebration of Pride Month, we are pleased to introduce our first-ever joint Davis Polk partner and alum spotlight featuring Jesse Solomon, an Antitrust & Competition partner and a member of the firm's LGBTQ+ Affinity Group Steering Committee, and alum Scott Farbish (NY, '13), Vice President, Government Affairs at Goldman Sachs and a former member of the firm's LGBTQ+ Affinity Group.
Read on to learn more about Jesse's and Scott's careers and what Pride Month means to them.
Jesse, what has been a career highlight for you?
JS: I had an incredible mentor and friend in Mike Sohn (DC, '10), who joined Davis Polk at the age of 70 and for almost a decade trained me in how to advise clients on navigating large-scale M&A deals through the antitrust agencies. Every day, Mike made me feel like a teammate and a friend, and it was a pure joy to work with him. Mike died unexpectedly a few months ago. I feel unbelievably lucky to have learned from Mike, and I am committed to honoring him in everything I do, day to day.
Scott, how has your Davis Polk experience been useful in your current role?
SF: I cannot emphasize enough just how helpful my DPW experience has been in shaping my current role at Goldman Sachs. At the firm, I learned how to be incredibly detail-oriented in my writing and analysis, but I also learned the importance of explaining difficult concepts in plain English, without using typical legal jargon. These two lessons have been so valuable to me at GS, where I often am asked to explain to senior people who are very busy why they should care about an issue and how it impacts the company. I can explain a matter concisely, while at the same time being able to dive a few levels deeper into the substance if needed.
What is something that many Davis Polk lawyers and alums may not know about you?
JS: Before I went to law school, I wrote and produced an in-the-field documentary television show on PBS about LGBTQ+ rights and culture issues. One of the most rewarding parts of the job was working with the host of the show, actor and writer Harvey Fierstein, who would offer a little commentary in every episode. As a young gay kid 20 years ago, I found it inspiring to work with Harvey and experience his warmth, generosity, insight and comic brilliance firsthand. Very few folks are as inspiring up close as they are from a distance, but Harvey certainly is. He taught me the importance of kindness and inclusivity in team sports like television production and lawyering.
What has it been like working with Davis Polk as a client? 
SF: I love working with Davis Polk as a client; it is typically my go-to law firm when I need outside counsel's advice or assistance. I often call up Jesse when I need a quick answer to an antitrust-related question, and I am frequently on the phone with Meg Tahyar, Randy Guynn, Annette Nazareth, Gabe Rosenberg and recent alum Jai Massari (DC, '11), in the Financial Institutions group (my mentors from the firm) to ask for help on a number of issues. One of the many reasons why I love relying on Davis Polk as a client is because the lawyers are so quick to analyze and respond to the issue at hand in a very digestible, deeply substantive and yet easy-to-follow manner. I can tell you that this is not always the case when working with other outside counsel.
Jesse, in 2019 you received Davis Polk's inaugural Inclusive Leadership Award. What does this honor mean to you?
JS: The very best part of the Leadership Award was learning later who nominated me: a woman named Janet, a fantastic and super-smart former associate who'd had our opposing counsel talk over her and disregard her contributions on a deal. All I did was create space for Janet to shine as she naturally does. I was not the hero of the story; she was. But being able to help set up conditions for Janet to lead was just the right thing to do, and I feel so immensely proud of how she succeeded once she was given the floor.
Tell us about your experience in Davis Polk's LGBTQ+ Affinity Group.
SF: I loved being a member of the DPW LGBTQ+ Affinity Group; it's where I met a ton of my friends at the firm with whom I still am very close today. I remember an Affinity Group event in early summer when I first started at the firm, at some incredibly humid rooftop bar, where I met many of these friends. I'll also never forget the barbecues hosted by Davis Polk Capital Markets partner Joey Hall in the Hamptons each summer; he was such a gracious and welcoming host, and those barbeques were a great way to bring the group together in a non-stressful environment.
JS: It's just been a privilege and a blast to work with the many generations of lawyers in this group, past and present. I especially miss Antonio Haynes (NY, '14) and his caftans and oversized hats. (Does anyone still wear a hat? Antonio does.
What does Pride Month mean to you and how are you planning to celebrate this year?
JS: Well, I'm not really a parade guy. But I am a bookworm, and reading is, after all, fundamental. So this year I have a few LGBTQ+ books set aside to read throughout the month. I especially love the work of a gay Irish author named Colm Toíbín, so in June, I will probably start with a classic of his, The Blackwater Lightship. And my family will get together with some other families with two dads or two moms; I really want our kids to be able to feel like they live in a diverse community of different backgrounds and experiences, including same-sex parents.
SF: Similar to Jesse, I never have really been a huge fan of attending the Pride Parade, but it's obviously hugely important for the LGBTQ+ community to honor and celebrate our history. We're still fighting many of the same battles today that we were fighting 50 years ago, particularly in some of the more conservative states, so I hope that this Pride Month will be a chance for the community to come together and show a strong, united front to those in our country who are trying to take away many of our rights. As for my own plans for this year, I have several friends (some of whom I met at Davis Polk) who are coming down to DC to celebrate Pride Weekend, which takes place earlier in the month than in New York City.