Image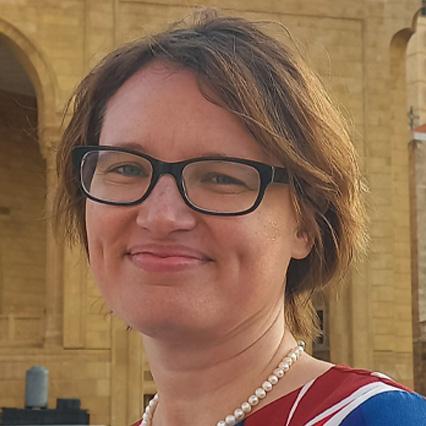 Deputy Ambassador at the British Embassy in Beirut
We recently caught up with Alyson King OBE, Deputy Ambassador at the British Embassy in Beirut since January 2020. Alyson worked in Davis Polk's New York and London offices, and her fascinating diplomatic career has spanned Asia, Africa and Europe.
Alyson discusses the challenges she faced in the aftermath of one of the world's worst non-nuclear explosions, combating conflict diamonds, writing speeches for Queen Elizabeth II and meeting with the Ukrainian Ambassador to Lebanon the day after Russia invaded Ukraine.
"It's a tremendous privilege to travel and immerse myself in other cultures and languages. There's a sadness, as well as a joy, as I leave pieces of my heart around the world."
Tell us about your role as Deputy Ambassador at the British Embassy in Beirut.
As Deputy Ambassador, I'm essentially the COO of the Embassy, overseeing our security, finance, HR, political/economic and programme teams. I also need to be able to deputise as chargé d'affaires whenever the Ambassador is away. So there is a lot of plate-spinning, whilst always keeping an eye on what matters most. That is the standard job description. However, the last two years have required me to grapple with all sorts of unexpected challenges, including the COVID-19 pandemic, the Beirut port explosion, and one of the world's worst-ever economic crises.
You started your current post two months before the pandemic began. What challenges did it pose for your role?
When the pandemic began, Lebanon went into a hard lockdown early on and closed the airport on March 18, 2020. I helped to quickly move the Embassy to a largely remote operation almost overnight, while providing advice to colleagues on how to stay physically and mentally healthy and thinking through how to deliver our services in a wholly new way. I created many opportunities for online conversations, led remote workshops to give people tools to support their own resilience and arranged online iftars (the meals eaten by Muslims after sunset during Ramadan), as Ramadan started only a couple of weeks into the pandemic. As I had only just begun getting to know people inside and outside of the Embassy before the pandemic began, there was a lot of feeling my way around and figuring out how best to support Embassy employees and Britons in Lebanon during this time.
On a personal level, my husband had gone back to the UK before the airport was shut down so that he could be with our two teenaged children. We didn't know when we would see each other again. Thank goodness for the internet and video calls!
In August 2020, an explosion caused by improperly stored ammonium nitrate resulted in extensive damage to a large area of Beirut, including the British Embassy. Tell us about that experience.
August 4, 2020 had been a fairly normal day for me. The Beirut airport had reopened on July 1, so many officers and their families (including the Ambassador) had departed for summer vacations, and my husband had just come back to Beirut. With the first wave of COVID-19 dissipating, life was beginning to return to a cautious normality. I was back in the Embassy, no longer working remotely, but I decided to leave relatively early that day and take some meetings and calls from home. I was on the phone when my apartment building began to shake. I guessed it was an earthquake so I ducked for cover. Then there was the most almighty explosion and windows flew in, ceiling tiles collapsed and a wall of noise sounded from fire alarms and air raid sirens.
I don't know how long it took for me to process what had happened, but somehow I remembered that I was in charge and my crisis training kicked in. Miraculously, the internet and phone lines remained functional, so I called London and explained that there had been a terrible explosion in Beirut and that we needed help. We then called all of our staff. A number of them needed urgent medical attention, and all of our diplomats' apartments were uninhabitable, so we had to figure out how to get everyone help and move our people and their families to safety.
As the hours passed, the scale of the devastation became clearer. It had been one of the world's worst non-nuclear explosions. We were fortunate to not have lost anyone, but our German, Dutch and United Nations colleagues, as well as many Lebanese, Syrians and migrant workers, were not as lucky.
The days following the blast were some of the most challenging and rewarding of my life. There was so much to be done: evacuate our families, issue press statements, deliver condolences to the Lebanese Foreign Minister and our international colleagues, advise on the UK's humanitarian defence offer, and, above all, support our traumatised and wounded colleagues. The team spirit was incredible and brought out the very best in people – I witnessed kindness, compassion, dedication and supportiveness. Someone described it as feeling like we were all "fingers of the same hand" working together.
What inspired you to pursue a career in diplomacy?
Growing up in a small Scottish town, I was always interested in the broader world and knew that I wanted to work internationally. Perhaps I was inspired by my father, who worked in exotic places like Somalia and Malaysia before settling down to married life in the UK. Despite, or perhaps because of, globalisation, it seems to me that there is a constant need to build bridges and strengthen mutual understanding. Having seen the horrific aftermath of wars in West Africa and Syria, and imagining what it will be like now in Ukraine, I think there is no nobler calling than seeking peace.
Last year, you were awarded an Officer of the Order of the British Empire (OBE) for your service to British foreign policy. What did it mean to you to receive this significant honor?
It was a lovely surprise to have been recognised for my public service over many years. I'm looking forward to receiving the medal at Windsor Castle in June.
You have lived and worked in many countries, including Lebanon, the United Arab Emirates, Scotland, Sudan and Belgium. What is it like to move every few years and where do you hope to work in the future? 
I don't know that I am any better at packing despite the practice I get! In all seriousness, it is a tremendous privilege to travel and immerse myself in other cultures and languages. There's a sadness, as well as a joy, as I leave pieces of my heart around the world. As far as where I hope to work in the future, I'm not yet at liberty to disclose my next role, but stay tuned.
Early in your career you represented the EU as a national expert in the Kimberley Process, a certification scheme to combat conflict diamonds. What was that experience like?
It was fascinating to work on the Kimberley Process, which brought together the diamond industry, NGOs and countries which produce, polish, trade and consume diamonds. The experience took me from muddy artisanal diamond fields in Liberia and Côte d'Ivoire to glitzy fashion shows with royalty and unimaginable wealth on display. I also returned to New York to negotiate a resolution in the UN General Assembly and report to a UN Security Council committee on our recommendation to lift a six-year ban on Liberian diamond exports. The EU chaired the scheme in 2007, right after Leonardo DiCaprio's Blood Diamond came out, and we hosted screenings of the film to raise awareness of the work we were doing.
It became one of the proudest moments of my career when the Security Council voted unanimously to lift the ban on Liberian diamond exports, agreeing that Liberia had made enough progress towards establishing the necessary internal controls to satisfy the minimum requirements of the Kimberley Process.
Prior to your current role, you worked as an Arabic spokesperson for the UK government in Dubai. Tell us about that experience.
Working in communications as a spokesperson was a departure for me, having previously focused on leadership in policy and legal work. It was definitely at the edge of my comfort zone to speak in Arabic on live TV about very sensitive issues. That said, I enjoyed learning how to use social media during this time, reaching 60,000 Twitter followers in one year and producing the most-watched video ever for my employer, the UK Foreign and Commonwealth Office.
What advice would you give to someone who may be interested in a career in diplomacy? 
There are many types of diplomacy and many pathways into the career, and, of course, there are many types of diplomats. Like every profession, diplomats need diverse perspectives and skill sets to be successful. Being open and curious, committed to lifelong learning, having the ability to build relationships and trust and being humble are key attributes for most kinds of diplomacy.
If not a diplomat, what would you be?
I have in mind a project for a travel book. If I ever get the chance to take a sabbatical and write it, I will let this community know!
Any memories from your time at Davis Polk? What impact has your experience at the firm had on your career?
I am very proud to have worked for Davis Polk. I have fond memories from my time at the firm, both in the New York and London offices, working with such luminaries as Paul Kumleben ('82), Juliet Cain ('90), Tom Reid ('87) and David Strupp ('82). Much of what I learned at the firm is extremely relevant to my work today, including how to work with diverse clients across the US and Europe and the value of patient, well-prepared negotiation, recognising that you might someday be facing the same people on the other side of the table. My time at Davis Polk also taught me the importance of professionalism, courtesy, respect, ethics and integrity. Davis Polk has been more selective with its clients than some other firms and has taken the long view, rather than chasing the quick buck. That long-term ethical perspective aligns closely with my values.
Can you tell us about a particularly proud moment or achievement in your career?
I was incredibly proud of how my whole team pulled together to respond to the Beirut explosion. I also very much enjoyed taking the lead on the Irish President's first-ever state visit to the UK in 2014 and celebrating the contribution of Irish citizens to many areas of British life, having acknowledged the hurts of the past. I drafted speeches for HM The Queen, which was quite different than writing for politicians. It can be challenging to pen something that is both meaningful and memorable whilst remaining above politics, but I found it easy to write for the Queen given the amount of rich material upon which I could draw.
Most recently, the day after Russia began its invasion of Ukraine, I attended, along with EU and other G7 ambassadors, a solidarity meeting with the Ukrainian Ambassador and his team at their embassy in Beirut. It was a profoundly moving event, where we expressed on both a personal and national basis our sympathy for and support to Ukraine, knowing that we were doing so at the start of an era-defining conflict and that much suffering would ensue. Much of the day-to-day work of diplomacy can seem mundane, or even futile, but at moments like that, it seemed to have a higher meaning.